Pho is a traditional dish perfect for any occasion or time of day. Luckily, Boston knows a thing or two about authentic and delicious pho that you'll want to slurp up over and over again.
The Best Pho in Boston
Beantown Pho & Grill
Here you'll find a down-to-earth location serving various tasty Asian-inspired dishes.
Beantown Pho & Grill has long been recognized for the delicious meals on their menu, ready for dining in or to go.
Just like their name mentions, one popular dish they serve is their pho.
This warm and hearty Vietnamese noodle bowl comes in a few flavor combinations, all sprinkled with fresh onion and scallion, served with lime wedges, bean sprouts, and sweet basil leaves.
The broths are fragrant, with rich, deep, and well-developed flavor. You'll find seafood options, chicken, and even spicy Tom Yum.
Beantown Pho & Grill is a staple when you're craving authentic pho.
Location: 272 Newbury St, Boston, MA 02116
Bon Me
Delicious eats can be found either on this rolling food truck or at one of their brick-and-mortar spots in Boston. Bon Me is well known for being a go-to spot for delicious Asian-inspired meals.
On their menu, you'll find a variety of dishes, but the one that really stands out is Ali's Pho.
This classic noodle soup dish is made with a housemade chicken broth with warm spices, roasted chicken, red onion, scallions, and more.
All the traditional flavors are packed into a hearty and filling bowl, perfect for lunch, dinner, or even as an afternoon snack. Bon Me has tasty pho you won't want to miss out on.
Location: 313 Congress St, Boston, MA 02210
New Saigon
This is one restaurant proving big flavor can be found in unsuspecting places. New Saigon is a hole-in-the-wall Vietnamese joint that focuses on noodle bowls.
The informal environment of New Saigon may not be what you expect, especially after a few bites. The interior is underwhelming, but the food is authentic and perfect when you're craving pho.
There are various flavor combinations and proteins highlighted in each dish. No matter what base you're craving, each broth is carefully crafted for deep flavors.
New Saigon is the unsuspecting spot you've been looking for to kick all your pho cravings.
Location: 985 Bennington St, Boston, MA 02128
Pho Basil
Here you'll find a minimalist spot with bright greenery-forward decor and delicious takes on Thai and Vietnamese dishes.
Pho Basil has an entire section on their menu dedicated to authentic Vietnamese noodle bowls.
This popular soup dish is served with either white or yellow egg noodles. Each is served traditionally with lime, bean sprouts, basil leaves, scallions, and cilantro.
Plus, you'll be able to pick from broth and protein combinations to fix your exact craving.
Whether you're searching for vegetarian, chicken, beef, or even spicy pho, Pho Basil has you covered every time.
Location: 177 Massachusetts Ave, Boston, MA 02115
Pho Hoa
This eatery has been open since '92, and they cut no corners on creating authentic and delicious pho.
Pho Hoa has a large and diverse menu, but the highlight includes Vietnamese noodle dishes.
The menu includes 14 pho options to pick from, so you might need a while to contemplate.
Each is served with traditional accompaniments like bean sprouts and lime, along with a housemade spiced broth.
You'll be able to pick from bowls with meatballs, eye-round steak, brisket, and so many more.
Authentic is the one word you'll be able to use to describe Pho Hoa, and we guarantee your first visit won't be your last.
Location: 1370 Dorchester Ave, Boston, MA 02122
Pho Le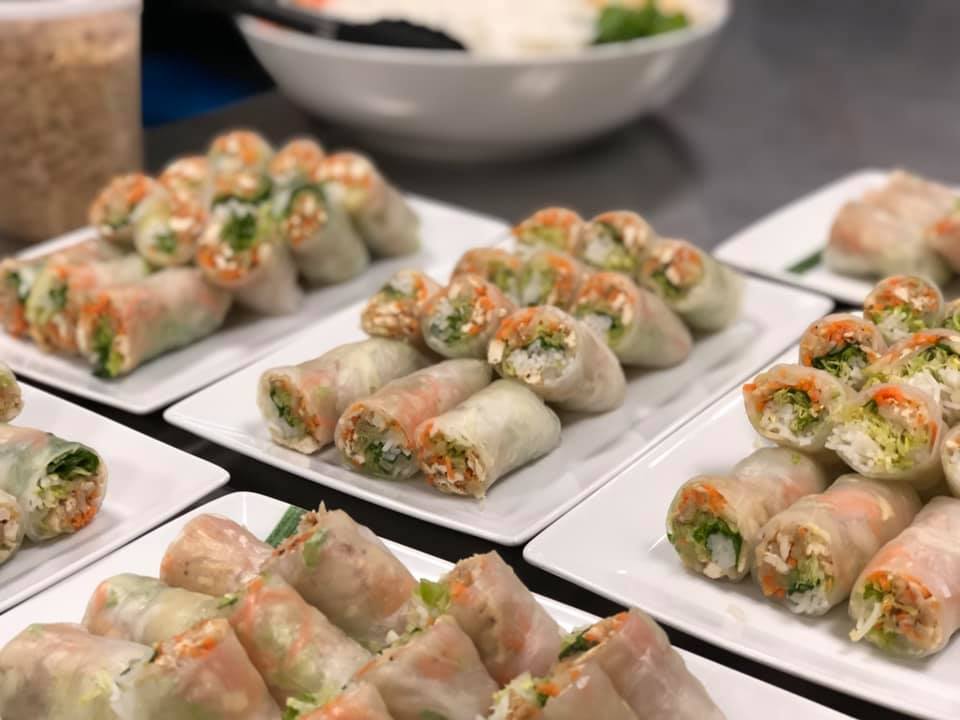 Find this neighborhood eatery in a bright corner space that's inviting and cozy.
Pho Le creates authentic meals ranging from noodle dishes to more complex Vietnamese plates.
The good news is when you're craving authentic pho; they have 11 options for you to choose from.
Slurp up the hearty, warmly spiced broths cooked with thinly sliced beef cuts, meatballs, and more. They even have a more approachable "chicken noodle soup" version.
Each of these comes in various sizes, so whether you're in need of a snack or a meal for two, Pho Le is the spot to be.
Location: 1356 Dorchester Ave, Boston, MA 02122
Pho Pasteur
Pho doesn't have to be a complicated meal; it's the perfect option when you're short on time too.
At least at Pho Pasteur, they're serving oversized noodle bowls at a quick pace in a casual spot with a cafe feel.
With two locations in Massachusetts, you're in luck with one of these fantastic spots in Boston.
Since '91, this family-owned restaurant has been focused on using fresh, high-quality ingredients to create large portions of tasty pho.
Each is created with housemade broth, perfect cuts of beef or pork, and topped with traditional veggies.
Pho Pasteur may be quick, but they don't cut corners when it comes to creating delicious pho.
Location: 682 Washington St, Boston, MA 02111
Pho N' Rice
Here is a casual spot for you to enjoy Thai and Vietnamese classic dishes in a cozy storefront space.
Pho N' Rice is serving some of the best pho in the Boston area, and the short drive to Sommerville for these hand-crafted bowls is well worth it.
They have a large menu, including lunch combos for a quick mid-day meal that's as tasty as it will be filling. Nothing on the menu is bad, and the pho is absolutely addicting.
This noodle dish is traditionally found even early in the morning for a breakfast dish, and part of the reason Pho N' Rice is open all day long is for you to enjoy the traditionally prepared bowl whenever you want.
Location: 289 Beacon St, Sommerville, MA 02143
Pho Viet's
Here is another spot that may be basic on the exterior, but give the food a chance, and you'll find hearty and authentic meals.
Pho Viet's is an award-winning no-nonsense spot where you'll find traditional dishes, including oversized portions of pho.
Along with serving authentic Vietnamese meals like Bahn Mi and summer rolls, their filling and flavorful beef noodle bowls can't be missed.
In an aromatic beef or chicken-based broth, you can add your choice of two noodle types, plus slices of rare steak, well-done flank, tenderloin, meatball, and tripe.
There are even additional proteins you can add, plus all the veggies you could want. Pho Viet's is authentic, and the reason they've won awards will be clear after just one trip.
Location: 1022 Commonwealth Ave, Boston, MA 02215
Saigon Fusion
This is the place to be when you're looking for a comfortable meal that does not disappoint.
Saigon Fusion is serving some of the best pho in Boston in an environment you won't want to leave.
The warm and spiced broth has deep flavors, and inside, you'll find tender cuts of meat and classic veggies.
Each portion is oversized, creating the perfect meal when you're craving a Vietnamese noodle bowl.
Plus, the cute and contemporary environment is great for any group or date night. Saigon Fusion is a can't-miss spot in Boston for traditional Vietnamese pho.
Location: 201 Massachusetts Ave, Boston, MA 02115
Final Thoughts
You don't have to wait for a special occasion to enjoy delicious and authentic pho, especially with places like these all across Boston.