Being a seaside city, fresh seafood is always available in Boston. From shellfish to fresh fish, plus tons of fresh oysters just waiting to be eaten.
The Best Oysters in Boston
Atlantic Fish Company

Enjoy the refined atmosphere and sidewalk seating of this seafood-based eatery.
Atlantic Fish Company serves some of the freshest caught sea fares in the city and creates an environment you'll be happy to come back to.
Since 1978 they've sourced all their seafood fresh from the Boston harbor, caught each morning to be prepared and served.
Even the menus are printed daily in order to keep up with the fresh offerings and market prices of these items.
When it comes to oysters, they're definitely experts, and you can indulge in oysters right from the east coast area or imported from the west coast.
No matter how many you're craving, Atlantic Fish Company is here to deliver all the oysters you can eat.
Location: 761 Boylston St, Boston, MA 02116
B&G Oysters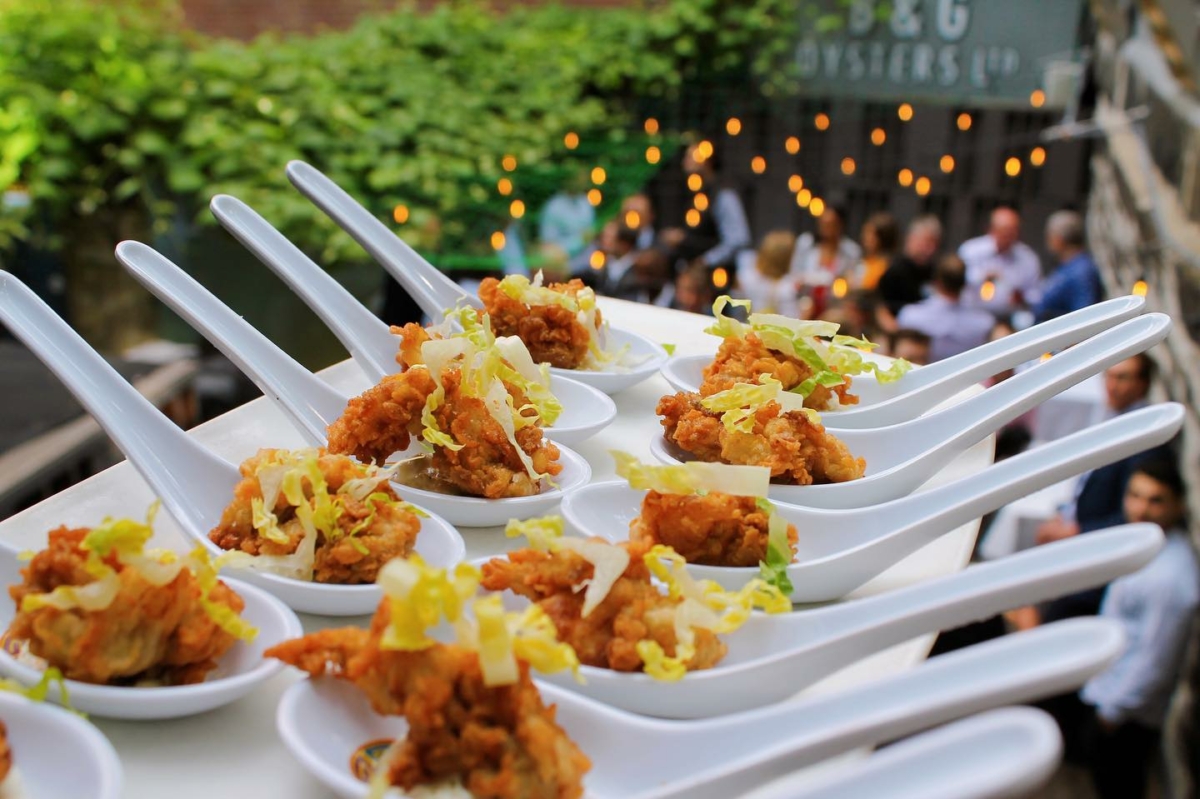 Indulge in this modern take on seafood from chef Barbara Lynch. B&G Oysters is a refresh on a classic oyster bar with plenty of raw bar options plus other fresh seafood plates that are the perfect addition to your week.
They're well known for plenty of classic dishes like the popular New England lobster roll, but as the name states, oysters are the bread and butter.
Having been named in multiple food publications over the years, they've become a well-known spot for fresh-caught oysters in Boston.
Plus, the food-friendly wine list means you can always create a pairing to match these raw bar treats. B&G Oysters is one rendition of an oyster bar that you won't want to miss out on.
Location: 550 Tremont St, Boston, MA 02116
Legal Sea Foods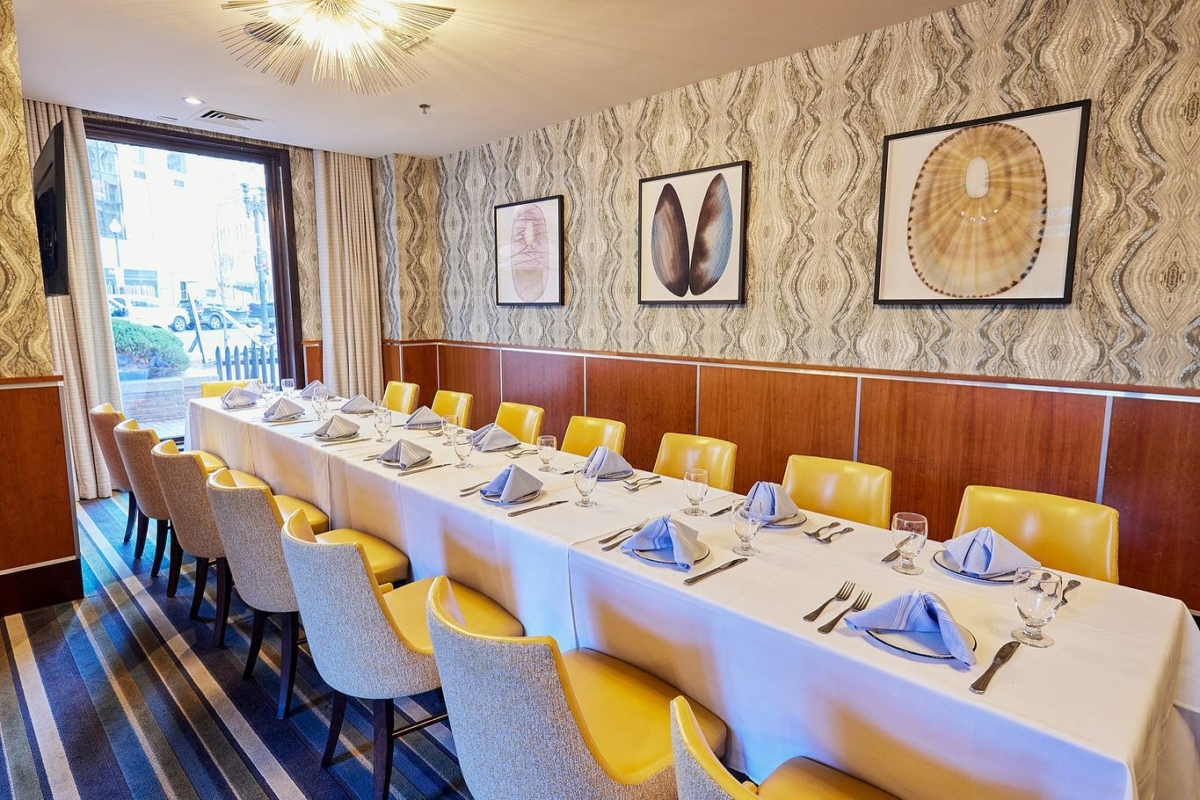 With multiple locations all over the Boston and New England area, this seafood restaurant offers plenty of opportunities to indulge in fresh-caught oysters.
Legal Sea Foods is a well-known name in the city of Boston as they're a go-to for residents and visitors alike to get their fix of fresh seafood and raw bar items.
No matter which location you visit, you'll be met with a welcoming atmosphere perfect for any crowd and fresh quality seafood to fulfill your cravings.
You'll be even more pleased with their daily feature, which often includes locally caught shells. Legal Sea Foods is a seafood venue with a social vibe that will become your go-to for oysters.
Location: 270 Northern Ave, Boston, MA 02210
Little Whale Oyster Bar
Indulge in classic New England seafood in Boston's Back Bay neighborhood.
Little Whale Oyster Bar is a seafood concept brought to life by chef Michael Serpa and his team.
This is an ode to little raw bars everywhere but brings a modern and bright twist, set in a Newbury Street brownstone.
The raw bar here is massive, with plenty of seafood options from shellfish, crudo, and ceviche, plus oysters.
You can even indulge in oyster platters, including 6, 12, or 24 ½ shells. Little Whale Oyster Bar has something for every raw bar lover.
Location: 314 Newbury St, Boston, MA 02115
Mare Oyster Bar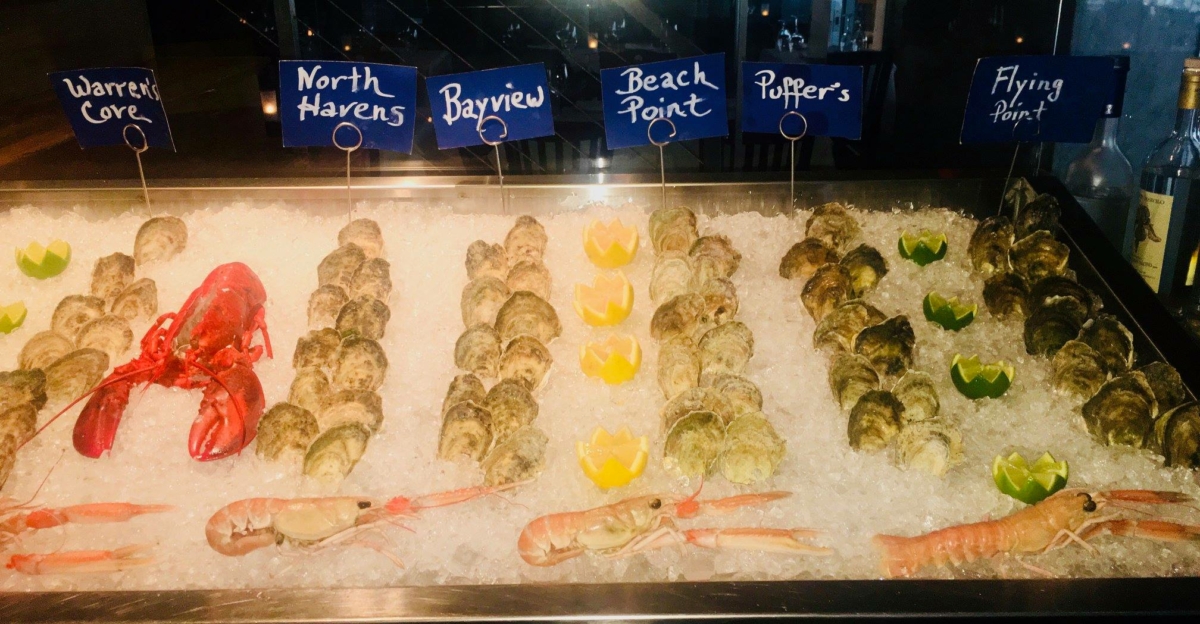 Enjoy a modern-Italian take on some of your favorite seafood at this Boston eatery.
Mare Oyster Bar is in Boston's North End, where you'll find a wide variety of sea-based foods, including oysters.
This menu is updated frequently with fresh catches and new features. However, what never changes is the fact that they offer some of the most succulent fresh oysters in the city of Boston.
These will be available at market price, and you can order as many as you can eat. Mare Oyster Bar is the perfect Boston go-to for fresh seafood eats.
Location: 223 Hanover St, Boston, MA 02113
Neptune Oyster
Here you'll find a busy and popular spot in Boston for everything seafood.
Neptune Oyster often has lines wrapped around the building in anticipation of their famous lobster roll and raw bar selections.
Although it's a tiny space, they are high-end with an impressive selection of fresh fare to pick from.
Indulge in the succulent oysters from either the east or west coast and order as many as you can eat, plus add caviar for an extra treat. Neptune Oyster is the only oyster bar you'll need.
Location: 63 Salem St #1, Boston, MA 02113
Ostra
You'll find this unique take on seafood in Boston's Back Bay area.
Ostra stands out among the numerous seafood spots in the city because of its focus on Mediterranean flavors and recipes.
But don't fret; here, you'll still be able to indulge in all your favorite seafood-based eats, including oysters.
Every day they feature new fresh-caught items, which often include local oysters, but even when they aren't the daily feature, you can enjoy oyster-based entrees all the time.
Ostra is a seafood experience you won't want to miss out on.
Location: 1 Charles St S, Boston, MA 02116
Row 34
Here you'll find a renovated gem in the historic Fort Point neighborhood of Boston.
Row 34 is a historic textile warehouse that's been given new life as a lively and welcoming fresh seafood restaurant.
No matter if you're looking to hang out at the bar or grab a meal with friends, this welcoming atmosphere will keep you coming back over and over.
Another item that will keep you coming back is the fresh-caught oysters on their menu.
Pick from fried oysters or a slider made from delicious seafood. Plus, raw bar options to build your own selection. Row 34 will be a seafood lovers' paradise.
Location: 383 Congress St, Boston, MA 02210
Union Oyster House
In a historic setting on the Freedom Trail, you'll find this popular seafood restaurant. Union Oyster House is Boston's oldest restaurant, originally opened in 1826.
Dating back to pre-revolutionary days, not only will you be dining in the exact same spots as patrons all throughout history, but they haven't moved even a single booth.
What's not surprising is they continue to serve fresh and delicious oysters, just as they always have.
Since its original opening date, Union Oyster House has been a popular fresh seafood bar, and there doesn't seem to be an end in sight.
Location: 41 Union St, Boston, MA 02108
Walrus + Carpenter
Located in Faneuil Hall, you'll find this lively destination for everything seafood.
Walrus + Carpenter draws inspiration from the Alice in Wonderland story and creates a welcoming oyster bar within the popular foodie hub.
This is a tiny space with limited seating, but when you can manage to snag a spot, the staff is happy to help answer questions and point you in the right direction, which is usually towards the fresh-local-caught oysters.
You won't be disappointed with this down-to-earth and affordable approach to oysters at Walrus + Carpenter.
Location: 8 S Market St, Boston, MA 02109
Final Thoughts
Oysters aren't only for high-end meals and are saved for special times, especially when seafood options are so easily available all over Boston.