Don't wait for a vacation to indulge in one of the most popular tequila drinks in the world. These margaritas in Boston will be the perfect drink any day of the week.
The Best Margaritas in Boston
Bartaco
In the Seaport District, you'll find this upscale taco joint serving delicious food and drink.
Bartaco is a popular outpost of the Mexican-inspired eatery chain that just so happens to serve some of the best margaritas in the city.
The cozy space is welcoming and inviting for you and your friends to grab a drink and a bite to eat.
They feature two different margaritas on their cocktail menu, and the bartenders are happy to put together another flavor combination for you from other bar ingredients.
The classic bar taco margarita and "green" margarita are both served with Libélula Joven tequila. No matter which you pick, the drinks at bartaco will impress.
Location: 25 Thompson Pl, Boston, MA 02210
Burro Bar
Travel to South Boston to enjoy this Mexican restaurant that's serving up delicious margaritas alongside their delicious cuisine.
Burro Bar is a kitchen and tequila bar that has talented bartenders and impressive ingredients just ready to create the perfect margarita.
The smaller sibling of the nearby Painted Burro restaurant in Somerville, this makes enjoying authentic Mexican fare more convenient than ever.
The bright and vibrant space is only complimented by the delicious margaritas served that are offered in 8 different flavor combinations.
From classic to elevated, the Burro Bar has some of the best margaritas in Boston.
Location: 1357 Washington St, Boston, MA 02118
Casa Verde
Here you'll find a cozy and homey eatery that focuses on light and veggie-forward tacos plus delicious margaritas and other cold drinks.
Casa Verde is a popular taqueria that serves up plenty of tasty taco combinations that perfectly complement their menu of tequila-based drinks.
Their menu contains three pre-built margarita options, with one that features 5 different flavor combinations that can be added for a more elevated drink.
When you're in the mood for a more classic option, their classic lime is always a great choice. Casa Verde is a great spot to grab drinks and a bit with friends or any group.
Location: 711 Centre St, Boston, MA 02130
La Hacienda
When you're looking for a Mexican restaurant that stands out among the rest, this is the place to be.
La Hacienda is serving up a terrific menu combination of both Mexican and Salvadorian fare that perfectly pairs with their tasty margaritas.
Focusing on flavors and techniques reminiscent of Latin countries, you'll be impressed with the drinks served here.
Whether you're in the mood for a classic lime concoction or a more elevated version, the bartenders are happy to create the perfect beverage.
These ice-cold tequila drinks will perfectly pair with whatever you decide to order on the menu. La Hacienda is always a good choice when it comes to margaritas in the city of Boston.
Location: 150 Meridian St, Boston, MA 02128
Loco Taqueria + Oyster Bar
This funky neighborhood spot specializes in a few things; tacos, oysters, and tequila-based drinks.
Loco Taqueria + Oyster Bar includes creative seafood dishes, Baja-style Mexican eats, and all the margaritas you could possibly want.
With 10 different options on their drink menu, it may be hard to narrow it down to just one.
With so many flavor combinations from classic lime to more complex creations, including coconut, blueberry-lemon simple syrup, or one of their other options.
You and your tequila-loving friends will quickly turn this spot into a weekly event. Loco Taqueria + Oyster Bar is the perfect place for a simple or crazy margarita in the city.
Location: 412 W Broadway, Boston, MA 02127
Lolita Cocina + Taco Bar
This location is a unique combination of a vibrant and trendy atmosphere paired with gothic decor and a lengthy tequila menu.
Lolita Cocina + Taco Bar features a modern approach to Mexican cuisine and beverages with a unique menu and setting.
Unlike any other spot in Boston, this unique setting is only half the reason this bar is worth a visit.
The other reason for a visit has to be their impressive margaritas available with any of their extensive tequilas.
You can order from any of the five pre-made combinations on their menu served by the glass or pitcher or opt for a more customized marg.
No matter what you decide on, Lolita Cocina + Taco Bar will keep you coming back for more.
Location: 271 Dartmouth St, Boston, MA 02116
Lone Star Taco Bar
With locations in either Allston or Cambridge, you have options when it comes to grabbing a drink at this popular eatery.
Lone Star Taco Bar is open late, so you can indulge in tacos and margaritas whenever the craving strikes.
Here the menu reflects only the best in tequila and Mexican street food, the best combination for a night out with friends.
You'll get to build your own margarita from their extensive tequila selection with plenty of mix-ins to elevate it beyond the classic lime flavor.
Lone Star Taco Bar is a great choice for marks in the Boston area.
Location: 477 Cambridge St, Allston, MA 02134
Rosa Mexicano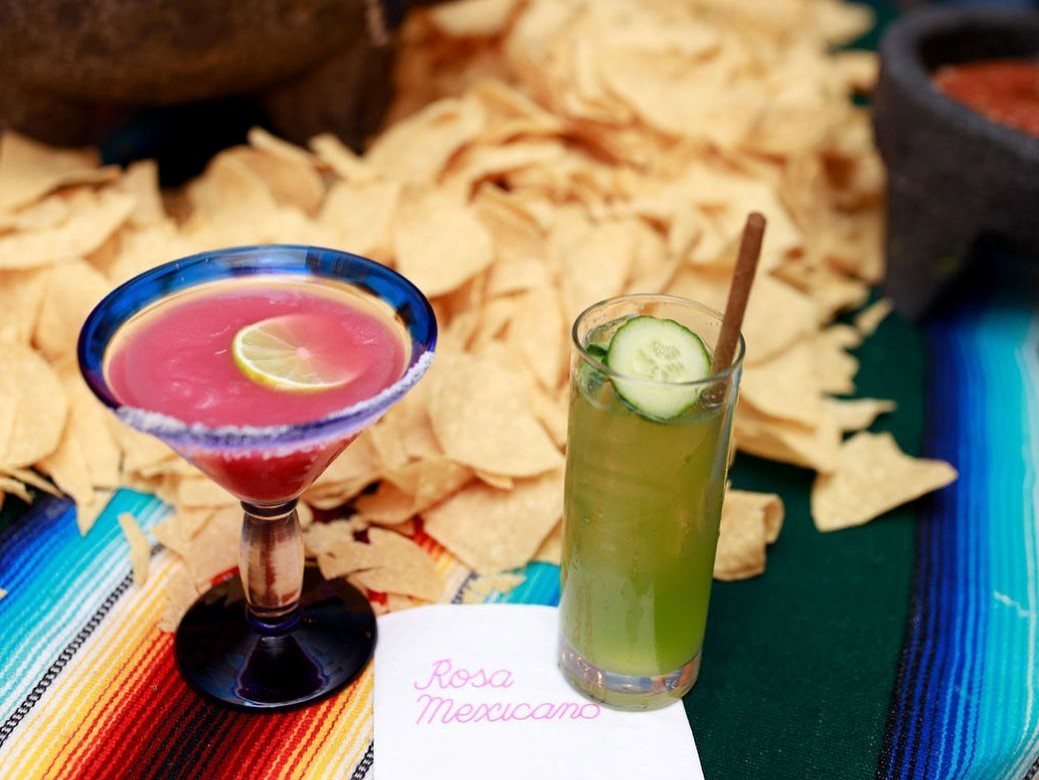 Find this authentic upscale Mexican cuisine and bar located in the Seaport District of Boston.
Rosa Mexicano includes a stylish and festive atmosphere that makes the perfect backdrop for sipping on tasty margaritas.
Here you'll find more than just a few classic margarita options. Instead, they opt for a more creative menu.
To go along with the tableside guacamole, you'll find over 10 margarita choices that include ingredients like blood orange, agave, mango chile, and so many more.
Rosa Mexicano is a must-visit bar in the city of Boston when you're craving delicious ice-cold margaritas.
Location: 155 Seaport Blvd, Boston, MA 02210
Sunset Cantina
This fun and casual location is a great choice when you're looking for a fun, delicious meal and drink with friends.
Sunset Cantina boasts an impressive tequila selection with over 200 bottles to pick from, all of which can be added to a delicious margarita.
There are 6 pre-built margarita options on their menu, with the additional option to add a flavor of your choice.
However, the massive tequila selection and mixers available at the bar means the bartenders can create nearly any combination you're craving.
The marks at Sunset Cantina may just become the only marks you order in the city of Boston.
Location: 916 Commonwealth Ave, Boston, MA 02215
Yellow Door Taqueria
With three locations around the city of Boston, this might just be the most convenient place to order a delicious margarita.
Yellow Door Taqueria includes a menu of indulgent authentic Mexican dishes plus a great selection of tequila drinks like their house margarita.
Here they serve marks on the rocks or mixed with crushed ice, and you get to pick your favorite flavor to add in.
Stick with classic lime or elevate your drink with jalapeno, raspberry + mint, or one of their other delicious combinations. Yellow Door Taqueria knows a thing or two about creating delicious margaritas.
Location: 354 Harrison Ave, Boston, MA 02118
Final Thoughts
Pretend you're on Mexican vacation any day of the week with a tasty margarita served on the rocks or in a frozen slush all around the city of Boston.