You don't have to settle for a regional chain any longer; fresh donuts are available in spots across Boston.
Get your morning started right with pastries from any of these great shops.
The Best Donuts in Boston
Anna's Hand Cut Donuts
Here is a snug little shop that sells pastries, including a wide variety of donuts.
Anna's Hand Cut Donuts has been servicing the New England area since 1965 with consistently delicious donuts in various flavors.
Well known for the jelly and cream-filled options plus other old-school donut options. Another of their most famous is the honey-glazed, which is so good they almost melt in your mouth.
They have an almost addicting quality, so just one won't be enough.
A great alternative to the Dunkin Donuts on every corner, be sure to check out Anna's Hand Cut Donuts for an independent shop serving insanely good donuts.
Location: 2056 Centre St, West Roxbury, MA 02132
Bad Doughnut
You'll find these handcrafted small-batch donuts in the heart of downtown Boston.
Bad Doughnut creates innovative and creative breakfast pastries perfect for indulging in all your sweet cravings.
They urge people to take a break from a perfect diet to enjoy a sweet treat, especially one of the fluffy donuts they serve.
These extravagant pastries come in a wide variety of flavors and are topped with fresh fruits, candies, cookies, and so much more.
The over-the-top donuts are the perfect way to mess with your diet and get your morning started right. Don't worry about being a little bad with a treat from Bad Doughnut.
Location: 100 High St, Unit 910, Boston, MA 02110
Blackbird Donuts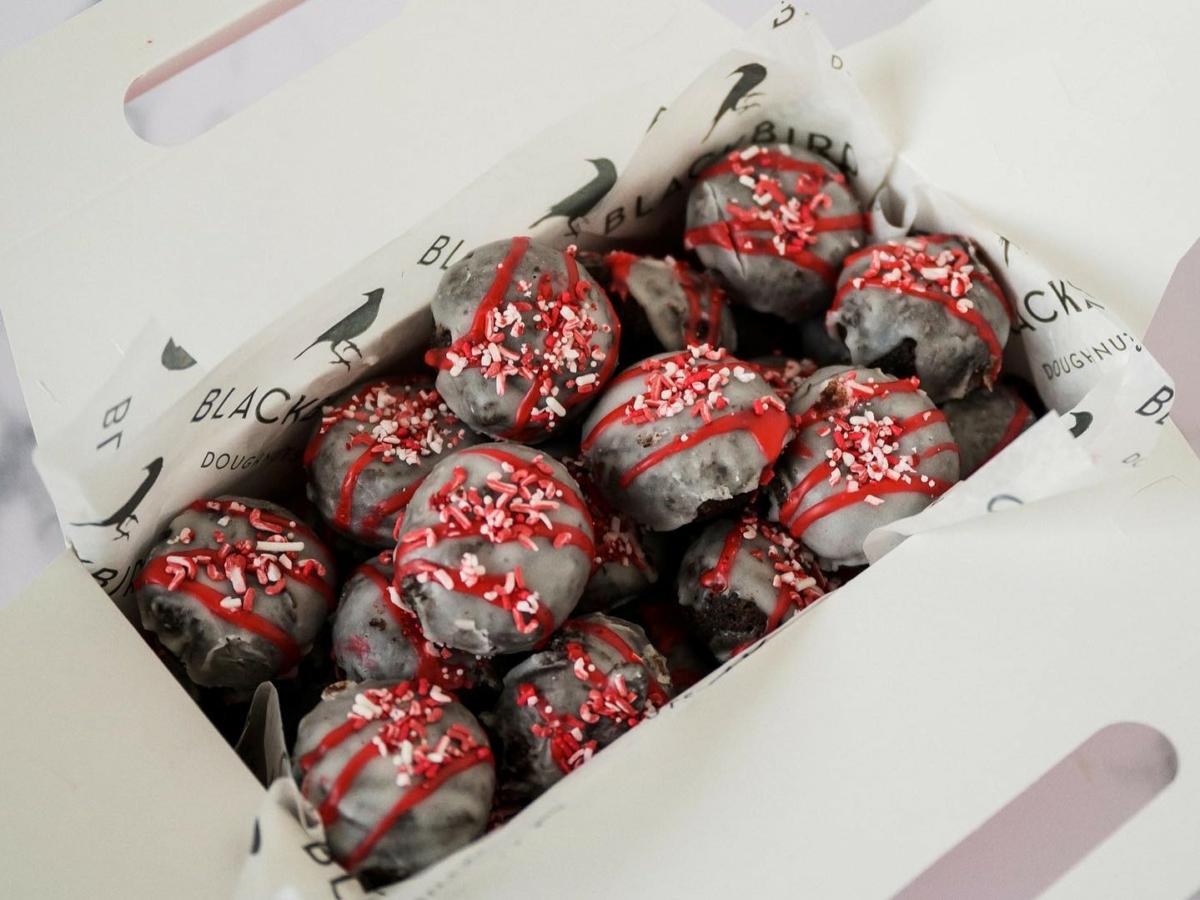 A donut chain local to the Boston area has 5 locations in the city and two additional in neighboring cities.
Blackbird Donuts has become a go-to for natives and visitors alike for fluffy and delicious sweet pastries.
Flavors and styles vary, and with everything made in-house, there will always be a wide selection to pick from, so there's likely to be a treat for everyone.
Be surprised with an assorted dozen, or pick out individual doughy pastries to fit your cravings.
They even have vegan options to help those with dietary restrictions. No matter what flavor you pick, you'll quickly see why Blackbird Donuts is one of the most popular shops in the area.
Location: 20 Kilmarnock St, Boston, MA 02215
Brassica Kitchen + Cafe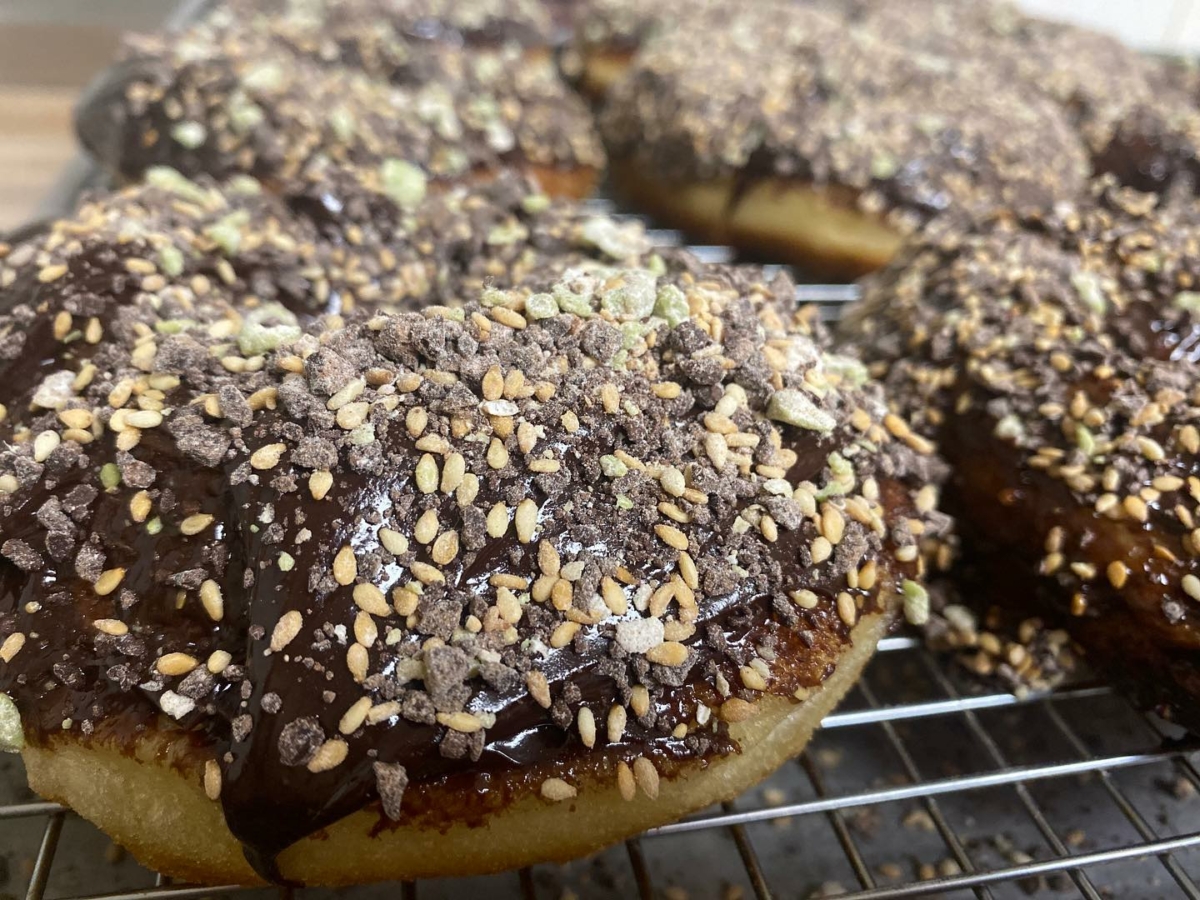 Here is a tiny cafe that's bringing a mix of creative and comfortable cuisine, including donuts.
Brassica Kitchen + Cafe is a hip spot to enjoy Euro-style meals and delicious pastries throughout the day.
Behind the counter of this popular spot, you'll find a selection of fluffy ring donuts.
The recipe is based on a slow-fermented brioche dough; without being overly sweet, they're wonderfully rich and topped with a thick house-made frosting.
They are available all day, but you'll want to get there early as the donuts from Brassica Kitchen + Cafe won't last long.
Location: 3710 Washington St, Jamaica Plain, MA 02130
The Broadway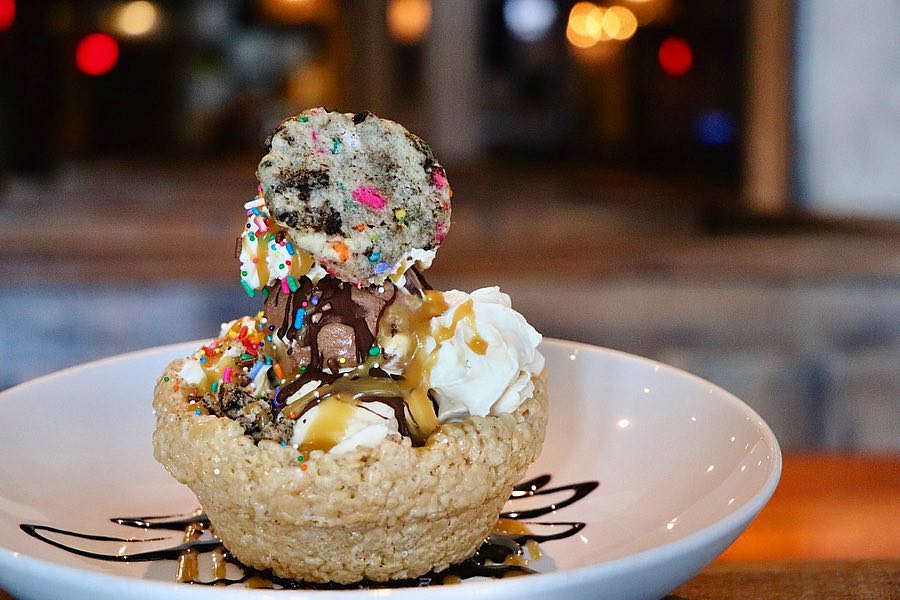 This is a full-service restaurant that just so happens to whip up delectable donuts during their brunch hours.
The Broadway creates some of the best fluffy, sweet, and chewy donuts in the Boston area.
While the flavor changes daily, and there is only one, it's usually an impressive display of what the kitchen can do.
Everything in-house is made from scratch, including the donuts. Plus, they're hand cut and fried, so you'll always have one of the freshest donuts in the city.
You can even add a shot of your favorite booze in the donut for a unique and elevated way to enjoy a drink with brunch. Stop into Broadway today to experience their delightful donut of the day.
Location: 726 E Broadway, South Boston, MA 02127
Doughboy Donuts + Deli

Here you'll find a deli-style shop where you can pick up donuts plus other casual eats for breakfast, lunch, and dinner.
Open 24 hours a day, Doughboy Donuts + Deli allows you to indulge in your donut craving any time of day.
Each of these pastries is hand cut and fried fresh daily, with new selections put out at 10 pm.
While they have staple flavors that you'll find year-round, there are also new seasonal flavors each month.
Pick from crullers, classic ring donuts, fritters, turnovers, and so many more pastries.
With endless options available whenever you want, there might not be a better place to grab donuts than Doughboy Donuts + Deli.
Location: 220 Dorchester Ave, Boston, MA 02127
Kane's Donuts
This donut shop has long been a staple spot in New England and has continued over the years to be open before dawn and well into the afternoon.
Kane's Donuts has turned the ordinary breakfast pastry into an indulgent and over-the-top creation, perfect for any time of day.
Over the years, they've won multiple awards and been mentioned in major publications, highlighting the delicious pastries they sell.
The menu is diverse, including yeast, cake, filled, specialty donuts, and gluten-free options.
The toppings range from plain and basic to candy and cookie-coated treats. Kane's Donuts will impress you every time with the sweet and tasty donuts they create.
Location: 90 Oliver St, Boston, MA 02110
Mike's Donuts
Well known by locals as the best place around to get donuts.
Mike's Donuts creates hand-cut, honey-dipped goodness with an unrivaled secret recipe that's been around since the 60s.
Since they first opened, they've expanded to become a full-service restaurant, but the donuts are still the reason for a lot of their business.
Along with the classic hot honey, there are other flavors and breakfast pastries to enjoy.
Depending on your needs, you can order them individually, in a half dozen or full dozen.
Mike's Donuts has been in business for over 40 years, and after just one visit, you'll understand why.
Location: 1524 Tremont St, Boston, MA 02120
Pon de Joy
Located within the Super88Market is Boston's first mochi-donut company.
Pon de Joy creates a hybrid between classic mochi and donuts to bring you a delectable little treat.
The texture created is lairy and chewy and shaped like bulbous rings. Unique and classic flavors highlight the menu, from cinnamon sugar to rose milk tea.
These Asian-inspired sweet treats will be the highlight of your day. After just one trip, you'll be addicted to the quirky little donuts produced at Pon de Joy.
Location: 1 Brighton Ave, Boston, MA 02134
Union Square Donuts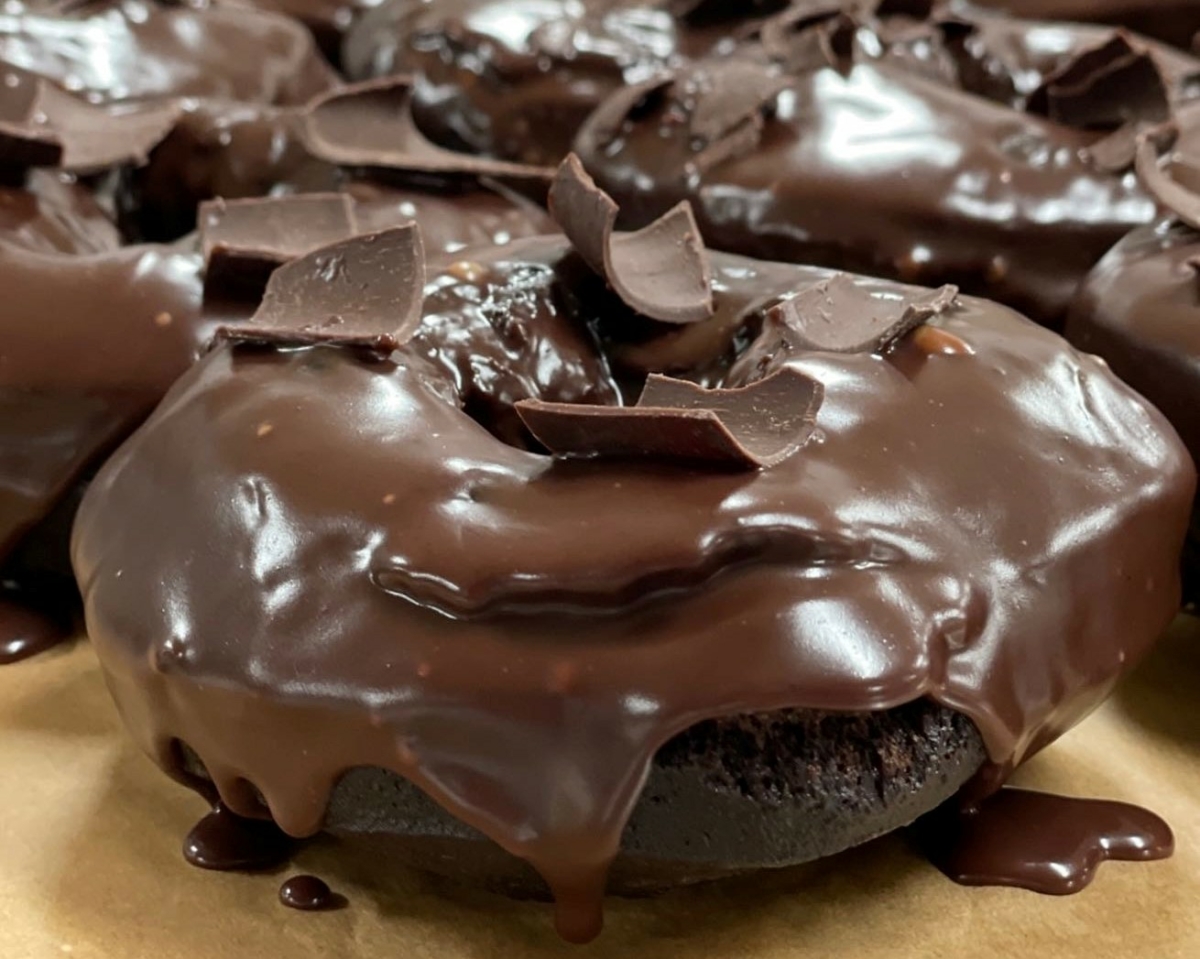 They've been voted one of the best donut shops in America, and for a good reason.
Union Square Donuts is an award-winning company that produces fresh, fluffy, and sweet doughy pastries.
Perfect for starting your morning or any time of day, these donuts come in a wide variety of styles and flavors, so there's something for everyone.
Along with the staples, menu flavors change monthly and with the seasons.
You'll have to stop in to see what combinations they've come up with this month, and you won't regret the trip to Union Square Donuts.
Location: 100 Hanover St, Boston, MA 02108
Final Thoughts
Start your morning on a sweet note with donuts from any of these great places around Boston.