New England is well-known for fresh seafood. While Boston is home to the internationally-loved lobster roll, they have the perfect seafood-focused soup too.
The Best Clam Chowder in Boston
Atlantic Fish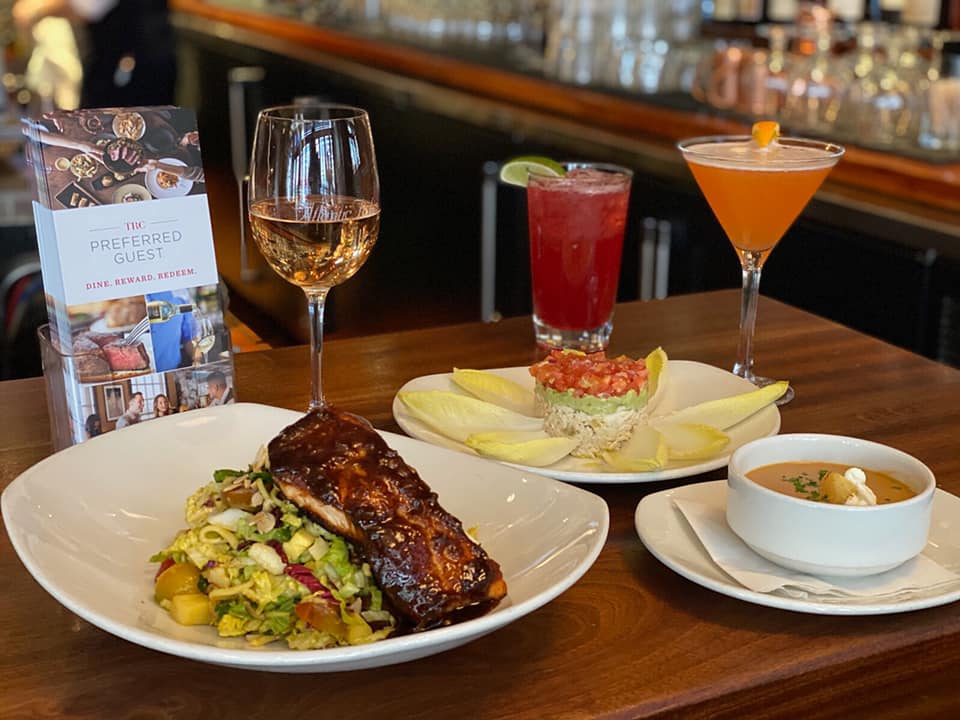 When your first concern is fresh seafood, this restaurant has the answers.
Atlantic Fish is a contemporary and established eatery with a new menu printed every morning to reflect the catch of the day.
Everything served here is sourced straight from the harbor, bringing a whole new meaning to farm-to-table.
While they have an extensive seafood-based menu, the clam chowder is one dish you won't want to miss.
They've even received many accolades from national publications like Thrillist, Open Table, and Wine Spectator.
The luxurious clam chowder is silky and full of rich flavor, perfect for warming you up during a Boston winter or as the start of a seafood-focused meal.
Atlantic Fish has one bowl of clam chowder you won't want to miss.
Location: 761 Boylston St, Boston, MA 02116
The Barking Crab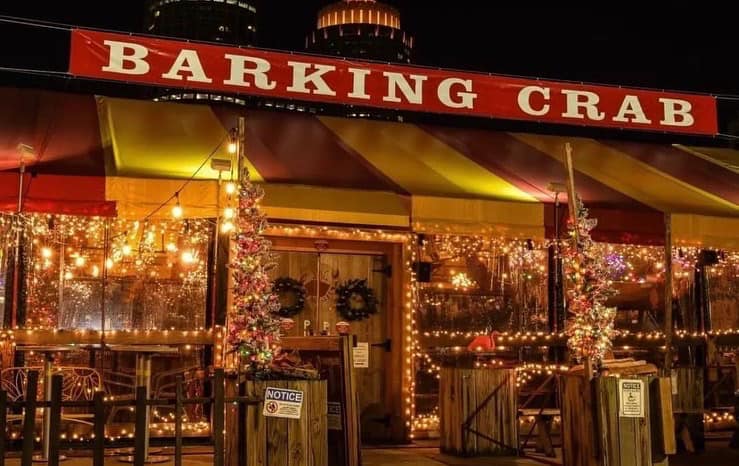 You'll find this local seafood eatery in the Historic Fort Point Channel within the Seaport District.
The Barking Crab is a lovely spot well-known for being a comfortable and airy meeting place with views of the Harbor.
You'll find picnic-style tables and a red and yellow stripe awning stretching over the famous restaurant.
They originally opened in 1994 and have been serving some of the city's best clam chowder since.
The classic New England-style chowder starts with a creamy chowder base, chock full of potatoes, onions, bacon, and fresh-caught clams.
Carefully blended and simmered together, every spoonful of clam chowder from The Barking Crab is the perfect bite.
Location: 88 Sleeper St, Boston, MA 02210
Boston Chowda Co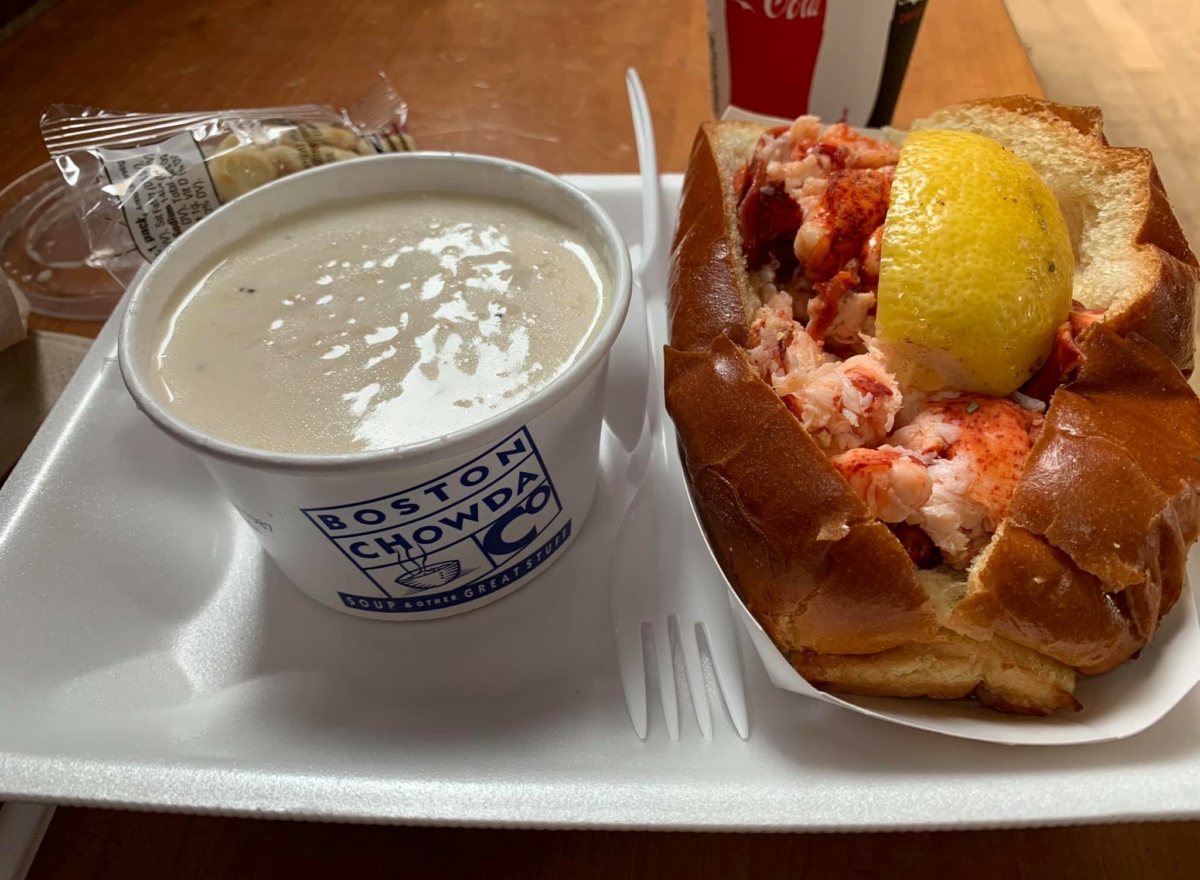 For over 25 years, chowder has been the main focus of this menu.
Boston Chowda Co is a local quick-serve spot where they don't sacrifice quality to serve you a delicious bowl of soup in a timely fashion.
This family-run business focuses on creating dishes that pay homage to traditional recipes and their heritage.
Their award-winning clam chowder is made each day with rich cream, hand-cut potatoes, and fresh surf clams.
You can even order the classic soup in a bread bowl for extra flavor and fun.
Dine in, or grab a bowl to go; Boston Chowda Co is here for all your chowder-related needs.
Location: 1 Faneuil Hall Market Pl, Boston, MA 02109
Boston Sail Loft
Not only will you find a well-established place for creamy clam chowder, but you will find some of the best waterfront views too.
Boston Sail Loft was opened in '84 and has since become a go-to for fresh seafood dishes.
As a casual place to gather with friends, you'll be able to indulge in cocktails and delicious plates.
You'll be able to order their famous and crave-able chowder by the cup or bowl, depending on your appetite.
Plus, they'll even ship the delectable soup nationally right to your front door.
The creamy, seasoned dish is packed with fresh clams and spices and is served with crunchy oyster crackers.
Boston Sail Loft will become a go-to for your next clam chowder craving.
Location: 80 Atlantic Ave, Boston, MA 02110
B+G Oysters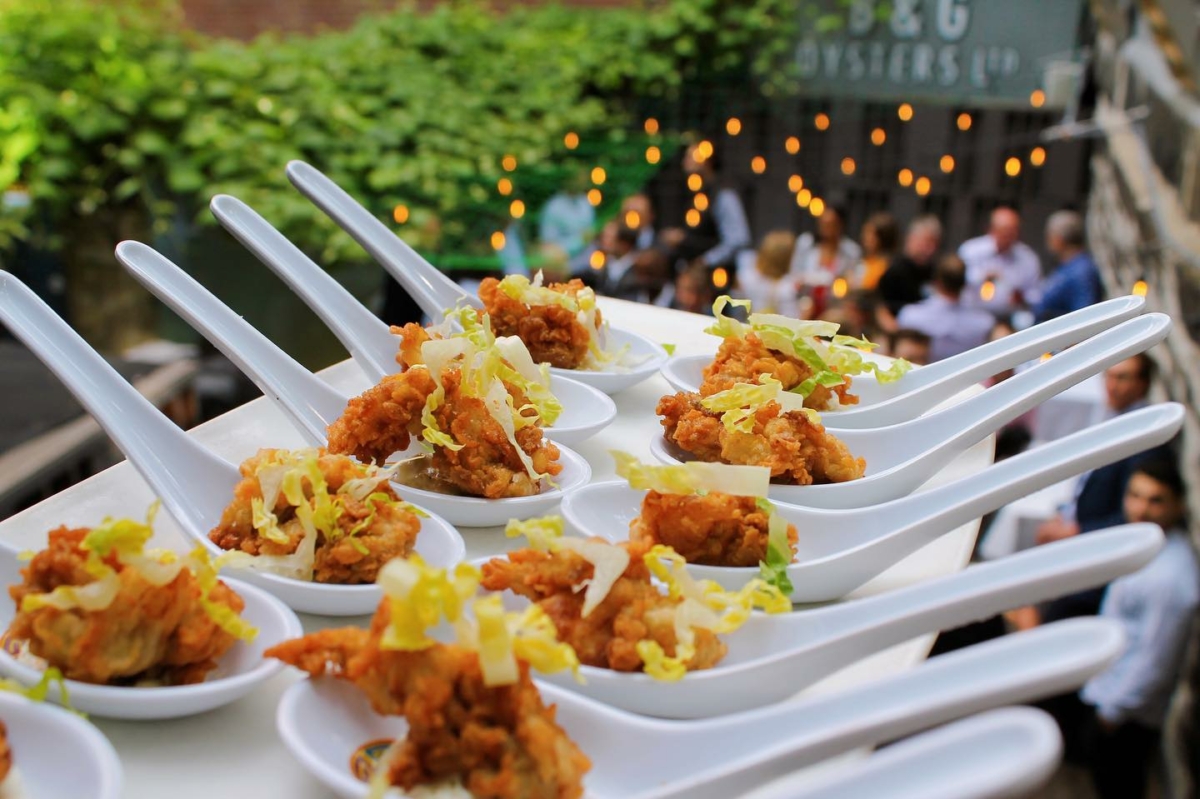 Here you'll find a modern take on classic seafood dishes from chef Barbara Lynch.
This modern-day oyster bar, B+G Oysters, has a neighborhood vibe and fresh oysters from both coasts.
The menu contains classic dishes, including lobster rolls, and has received many accolades from renowned publications like Boston Magazine and Food + Wine.
But the clam chowder is one dish you won't want to miss out on.
This unique take on the classic dish includes a creamy chowder base, smoky bacon bits, and a spicy crouton to complement the fresh clams.
You'll be licking the bowl clean after just one order of their modern clam chowder from B+G Oysters.
Location: 550 Tremont St, Boston, MA 02116
Legal Sea Foods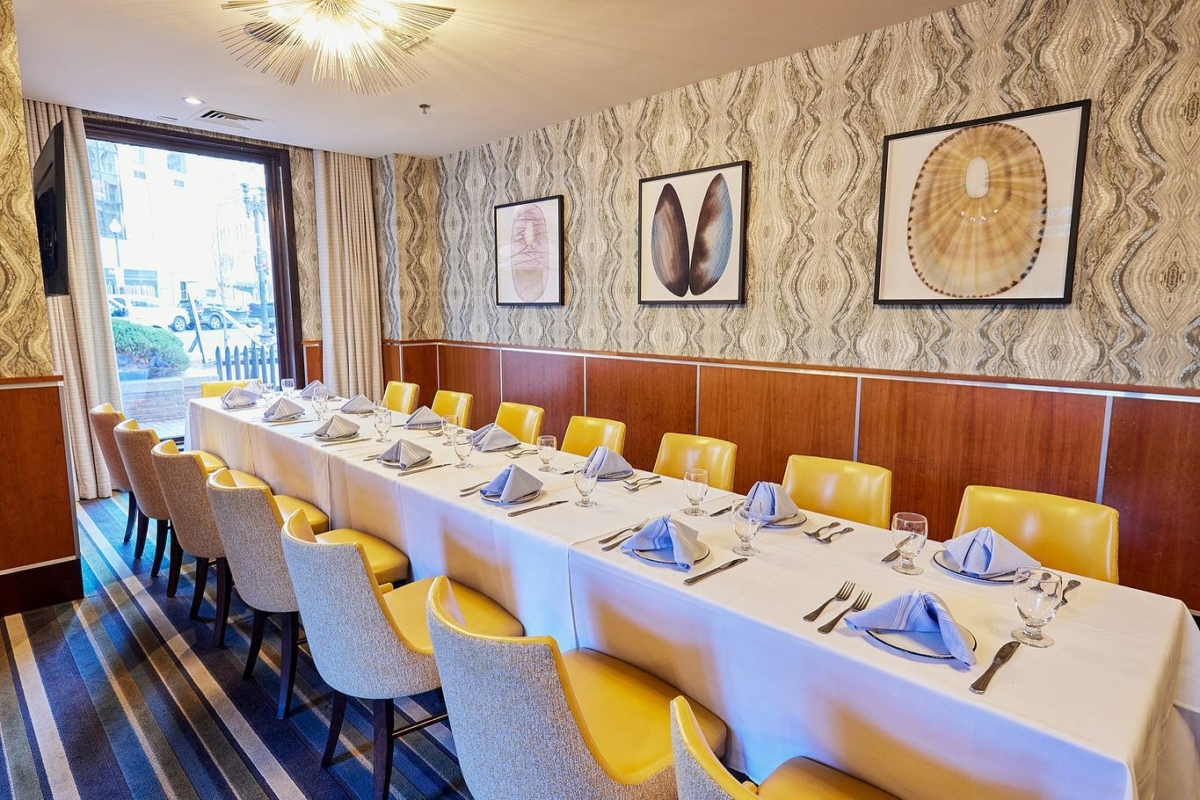 Established in 1950 and with over 23 locations across the Eastern Seaboard, there are plenty of options to taste this delicious cuisine.
Legal Sea Foods is a locally owned and operated chain focused on serving fresh and quality seafood.
What started as a fish market quickly grew into a sought-after restaurant serving some of the best clam chowder and other seafood-based meals in the Boston area.
The classic New England clam chowder is a creamy soup full of potatoes, chunks of fresh clams, crispy cooked bacon, and a myriad of seasonings.
Just a few bites, and you'll be hooked on this classic dish served at Legal Sea Foods.
Location: 270 Northern Ave, Boston, MA 02210
Neptune Oyster
Here you'll find a tiny upscale oyster bar that also serves some warm seafood dishes to local patrons.
Neptune Oyster is a busy little shop with lines usually forming out the door to wait for their fare.
While they are well known for the classic buttered lobster roll and the cold bar of fresh oyster selections, the chowder should be on your list.
The Wellfleet Clam Chowder comes in a hearty portion size, making it the perfect option for lunch or dinner.
Along with fresh-caught clams in each batch, you'll taste salty pork accents and savory thyme in the cream base.
This addicting soup from Neptune Oyster might just become your new go-to.
Location: 63 Salem St, #1, Boston, MA 02113
Saltie Girl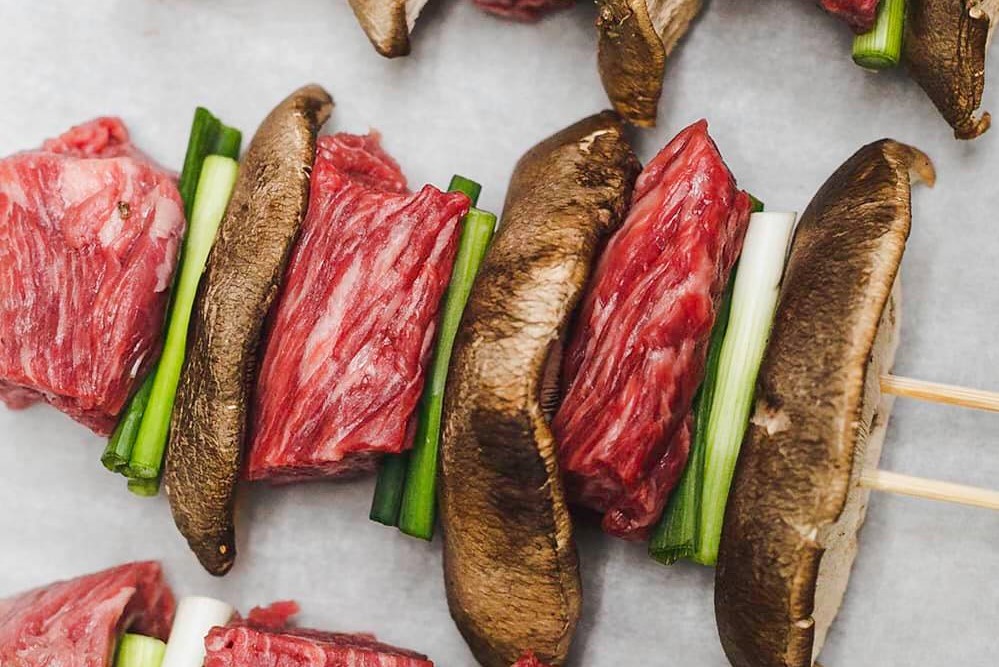 Your chance to dine at an internationally recognized seafood restaurant is not out of reach with this Boston-based eatery.
Saltie Girl is a seafood spot with locations in Boston, London, and Los Angeles, serving fresh seafood from all coasts.
Originally inspired by the New England coast, they understand there's something familiar to locals about salty sea fare.
While everything on the menu is fresh, delicious, and worthy of its own publication, the clam chowder is one taste you can't miss out on.
This delectable soup comes in a small bowl with fried clams, potatoes, bacon, and celery, or you can upgrade to deluxe, which includes whole clams too.
Saltie Girl is raved about in three different cities, and for a good reason.
Location: 279 Dartmouth St, Boston, MA 02116
Union Oyster House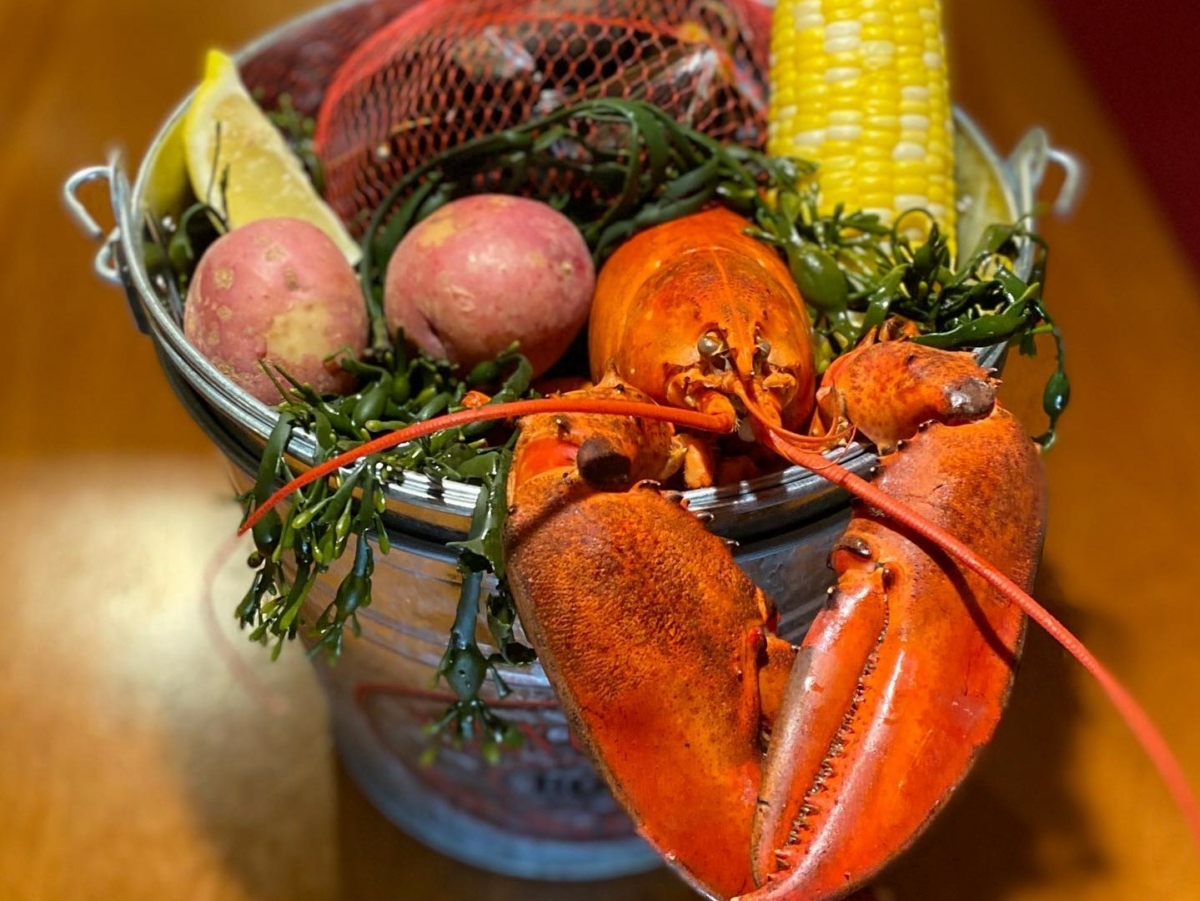 Visit the oldest-operating restaurant in Boston to indulge in some classic New England fare.
This historic eatery is known as the Union Oyster House and has been serving fresh seafood and chowder since its conception in 1826.
This historical setting will take you back to the former days of Boston, located on the Freedom Trail.
The classic wooden panel interior and bar tables will keep you feeling cozy while you indulge in traditional Boston eats.
You won't want to leave here without indulging in a cup, or bowl, of the classic Boston clam chowder made with rich cream, salty bacon, and fresh-caught local clams.
Not much has changed over the years at the Union Oyster House, and for a good reason.
Location: 41 Union St, Boston, MA 02108
Yankee Lobster Co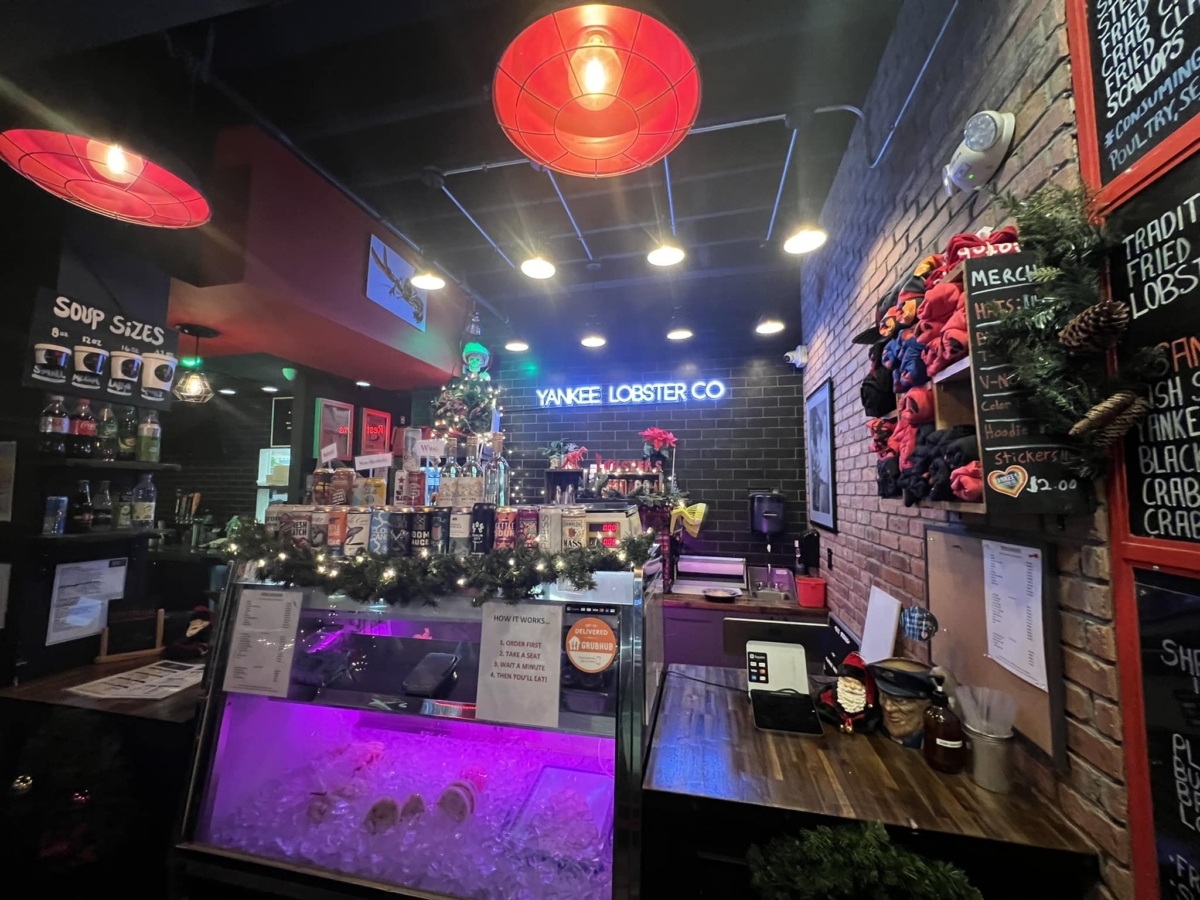 Right next to the harbor, you'll find this counter-serve spot for fresh-caught seafood.
Yankee Lobster Co has all your favorites, from oysters to live lobster, and their classic clam chowder, which can't be missed.
Three generations, and counting, have overseen this traditional Boston restaurant, which has been in operation since 1950.
They understand what it means to truly love clam chowder as they're one of the only places in the city that serves catering-size portions alongside the regular menu.
This creamy, salty, clam-forward soup is a local favorite and the perfect addition to any meal.
Yankee Lobster may focus on all seafood types, but the chowder will truly delight you.
Location: 300 Northern Ave, Boston, MA 02210
Final Thoughts
Clam Chowder is a New England staple, and where better to enjoy a fresh bowl of hot soup than in Boston.