You can enjoy this classic New England dish at nearly any Boston restaurant. However, when you're looking for the best, these are the stops you'll want to make.
The Best Fish And Chips In The Boston Area
Blackmoor Bar and Kitchen
In this bust Boston neighborhood, you'll find an equally busy neighborhood go-to for delicious meals.
Blackmoor Bar and Kitchen features 34 rotating draft beers and a menu of elevated classic bar food.
Their fish and chips make this list because it's easily one of the best items on their menu, even listed under Blackmoor favorites.
This North American haddock is beer battered and fried to crisp golden excellence and then served with thick-cut fries, creamy coleslaw, and housemade tartar.
Blackmoor Bar and Kitchen proves over and over they serve some of the best fish and chips in the Boston area.
Location: 1 Chelsea St., Charlestown, MA
Boston Sail Loft
Open since 1984; this waterfront restaurant has become a go-to for delicious meals in a beautiful and cozy atmosphere.
Boston Sail Loft is not only serving up some of the best seafood dishes in Boston but some of the best views, too, with floor-to-ceiling windows throughout.
They've long been known as a spot for fresh New England seafood, including the classic fish and chips. On the menu, you'll even find this meal listed as Boston's best, and they aren't kidding.
Both the fresh fish and potatoes are fried to perfection and served with delicious homemade tartar. Boston Sail Loft proves over and over again they're one of the best for fish and chips in Boston.
Location: 80 Atlantic Ave, Boston, MA
Courthouse Seafood
Here you'll find a casual take-out menu of seafood dishes with a fish market right next door.
Courthouse Seafood is a Cambridge favorite for heaping portions of delectable fried sea fare.
Since 1912 they've been a well-known spot for serving the freshest seafood selections and a menu perfect for take-out lunch or dinner.
The classic fish and chips meal is found on their menu and served in three different ways. A classic whitefish option, upgrade to haddock or sole too.
All battered and fried to perfection, served with french fries and tartar sauce. Courthouse Seafood is well known in Cambridge and beyond for a good reason.
Location: 489 Cambridge St, East Cambridge, MA
The Druid
A short trip outside of Boston to the neighboring city of Cambridge will be well worth it for this classic seafood meal.
The Druid is a classic wood-paneled Irish pub where you can go to enjoy pints paired with classic bar meals.
Fish and chips are at the top of our recommendation list for their menu as it's easily one of the best meals they serve.
They hand-batter cod before frying it and serve it with tasty hand-cut fries and housemade tartar. Fish and chips don't get much better than at The Druid.
Location: 1357 Cambridge St, Cambridge, MA
The Dubliner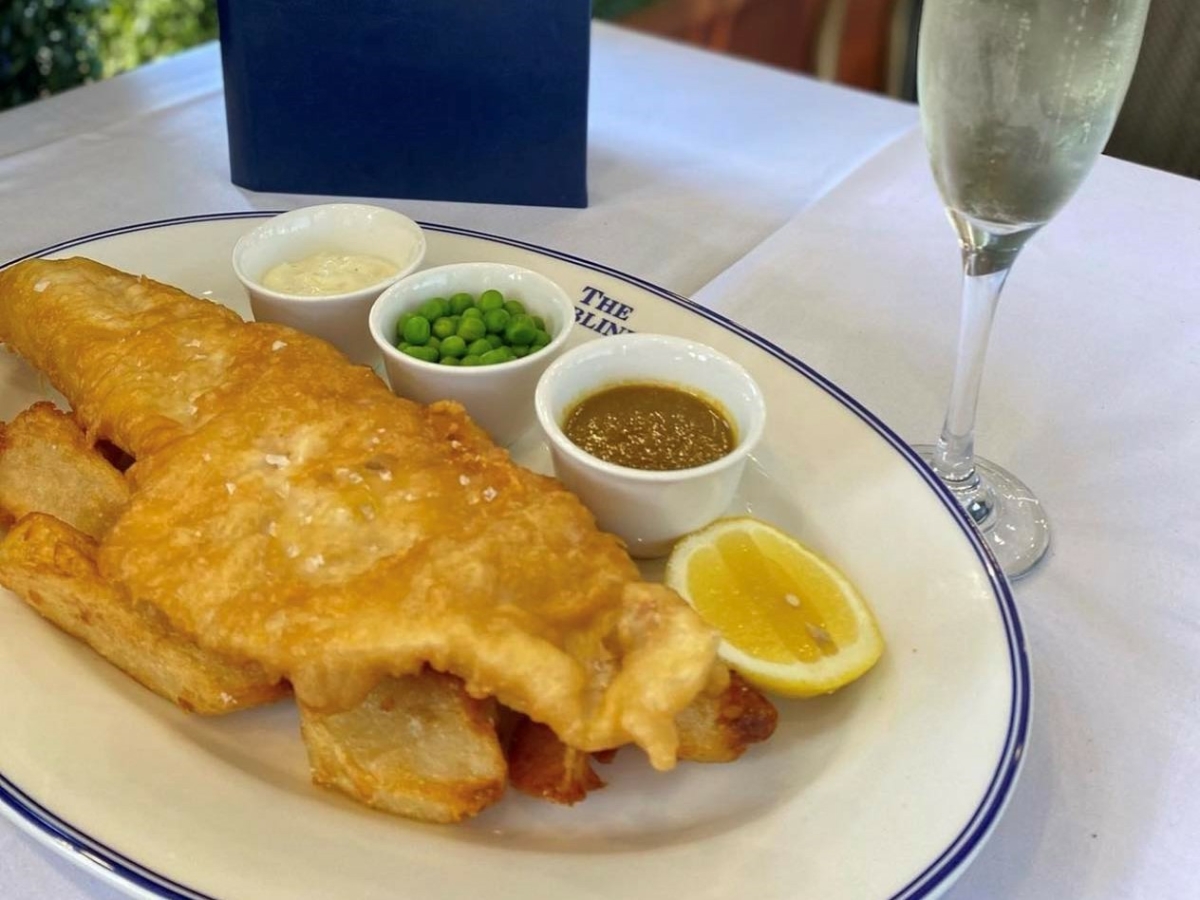 An Irish pub in Boston wouldn't be quite right if they didn't serve up a delicious version of the classic fish and chips.
The Dubliner is doing everything right and has even been dubbed the No. 1 Irish bar in the city.
Along with a cozy pub atmosphere and live music often, their menu makes it a restaurant you'll want to visit often.
On the classics portion of the menu, you'll find their take on fish and chips, which includes fresh haddock paired with triple-fried potatoes, peas, and classic tartar. The Dubliner is the perfect place to go for this classic dish.
Location:2 Center Plaza, Boston, MA
JP Seafood Cafe
The short trip to Jamaica Plain will be well worth it for this plate of fish and chips.
JP Seafood Cafe is a favorite in this neighborhood for its imaginative menu of seafood with Korean inspiration and sushi.
All along the walls of this popular spot, you'll find bright ocean-themed murals to compliment their menu.
While their menu tends to stray on the side of sushi and other Asian-inspired plates, their fish and chips make this list for a reason.
Dipped in their homemade batter and deep fried, their rendition of this classic dish is served with homemade coleslaw, fries, and tartar sauce. JP Seafood Cafe is a great spot to stop for this classic seafood dish.
Location: 73 Centre St, Jamaica Plain, MA 02130
Lucy's American Tavern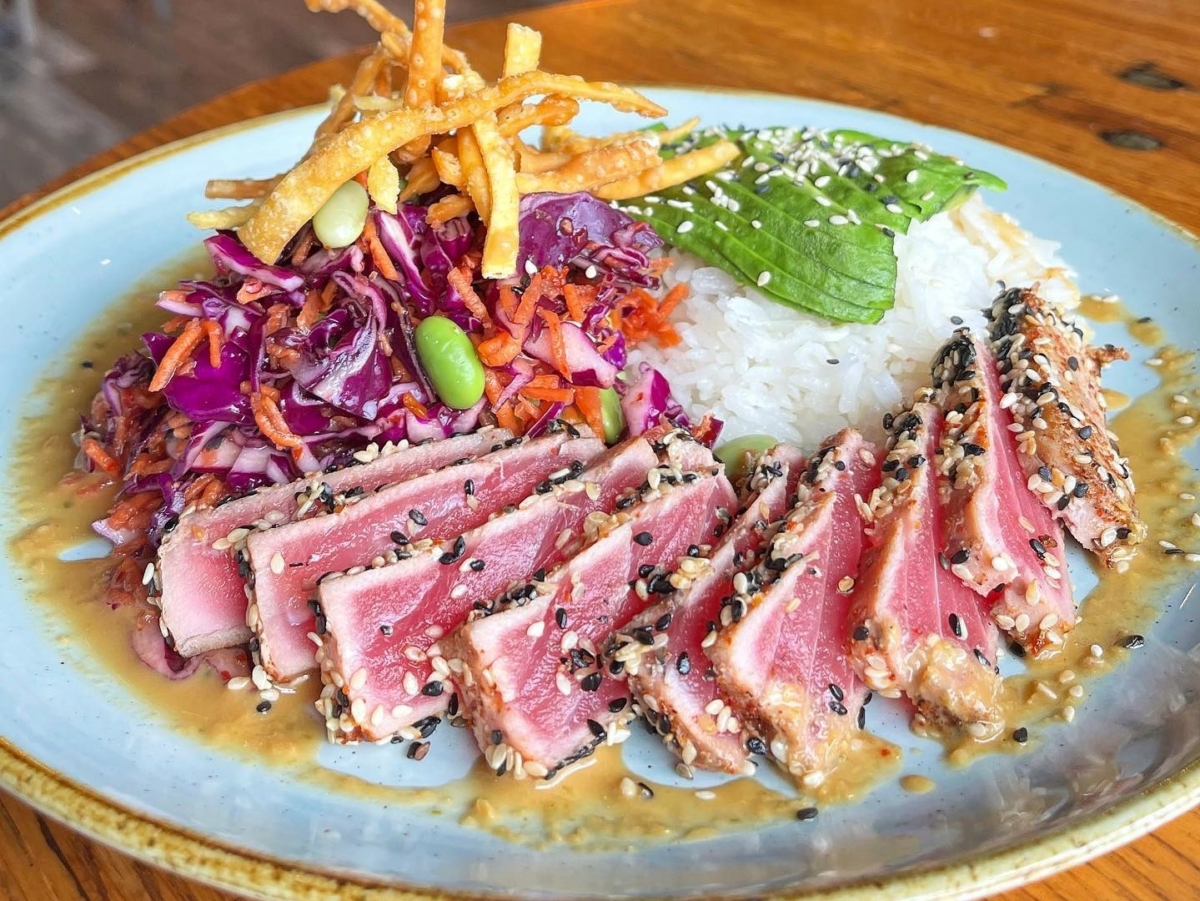 In the popular neighborhood of Boston, you'll find this classic pub where traditional tavern fare is elevated with seasonal ingredients.
Lucy's American Tavern serves up a classic menu of bar favorites, including the classic meal of fish and chips.
Their menu includes crafted cocktails and draft beer, which pairs well with this fan-favorite meal. Like the rest of the menu, this dish has an elevated twist, and instead of the classic battered fish, you'll enjoy a potato chip-encrusted haddock.
This is doused with malt and vinegar seasoning for the traditional flavor and served with all the classic sides. Lucy's American Tavern is doing fish and chips in a whole new way.
Location: 13 Granite Ave, Boston, MA 02124
Row 34
Find this classic Boston restaurant tucked in the historic Fort Point neighborhood. Row 34 serves up an extensive menu of locally sourced seafood dishes in a stylishly renovated brick and wood space.
Most people stop by this popular spot for their collection of oysters which is more extensive than any other in the city. However, the classic fish and chips meal on their menu is a hidden gem.
The beer batter the fresh whitefish before frying it to crisp perfection. Served with classic french fries and a unique malt vinegar aioli that will elevate this dish from traditional to extraordinary.
With 4 locations around the Boston area, Row 34 is always a good choice for seafood.
Location: 383 Congress, Boston, MA 02210
Yankee Lobster Co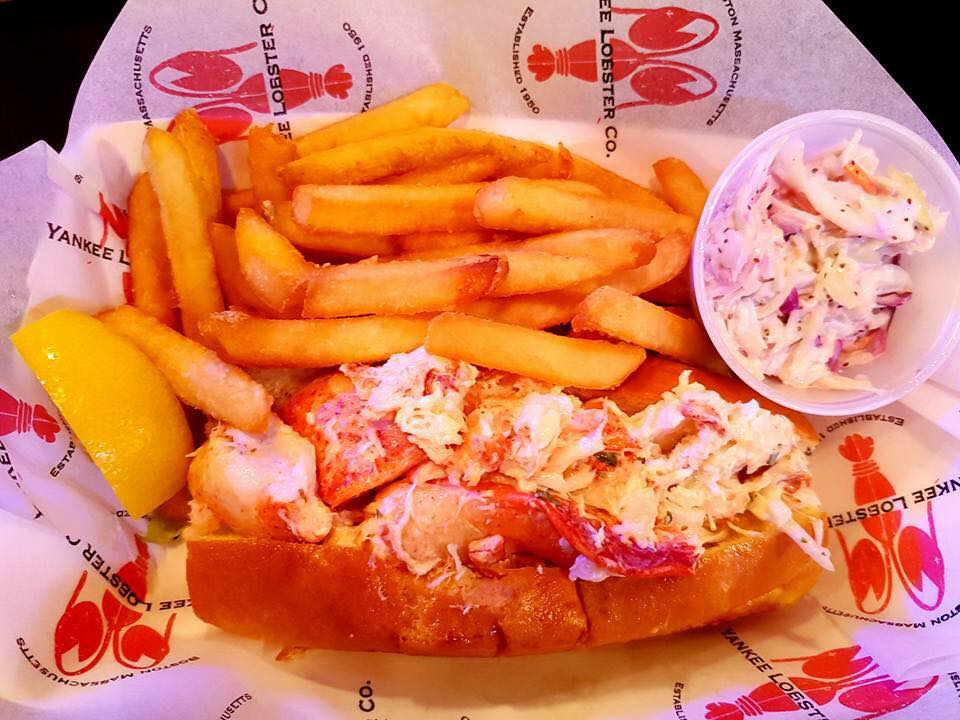 Established in 1950, this local eatery remains a favorite among Boston locals and tourists alike.
Yankee Lobster Co is a family-owned and operated restaurant serving a menu of only the freshest seafood prepared in all your favorite ways, including the classic combination of fish and chips.
While their menu contains a mix of nearly any seafood, you can think of, from lobster, oysters, calamari, and more, their beer-battered fish and chips will always hit the spot.
These hand-breaded fish are coated in their homemade beer-infused batter before being fried to golden crispy perfection.
Add on their classic fried potatoes, and Yankee Lobster Co is in the running for the best fish and chips in Boston.
Location: 300 Northern Ave, Boston, MA 02210
Salty Dog Seafood Grille and Bar
Located within Quincy Market is one of the best fish and chips meals you'll find in the city of Boston.
Salty Dog Seafood Grille and Bar is a straightforward spot with a patio for enjoying some of the best seafood dishes around.
This is a bustling restaurant that specializes in only the freshest New England-style seafood using local ingredients.
While they have a ton of great options on the menu, including locally sourced oysters and delicious clam chowder, their fish and chips are the stars of the show.
Fresh, flaky whitefish hand battered and fried to crispy perfection. This delectable fish is served traditionally with crispy fries, tartar sauce, and a lemon wedge.
Salty Dog Seafood Grille and Bar show you exactly what fish and chips should be like.
Location: 206 S Market St, Boston, MA 02109
Final Thoughts
When you're in such an iconic city, you won't want to miss out on such an iconic meal. The fish and chips in Boston are fresh and calling your name.